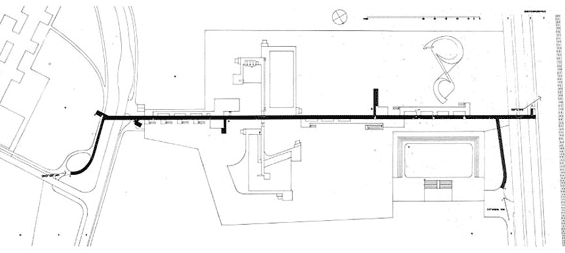 architects have to sell designs for a lot of money.
they are something between artists and engineers.
engineers sell much easier, their products – in general – either work or do not work.
architects' designs are not so easy to evaluate so a lot of pomp and circumstance is necessary for sales.
the more money they want the more pomp is needed.
sometimes architects and their investors get carried away.
one example is aurelio galfetti's bellinzona public swimming pool.
i trained at this pool 5-6-7 times.
i was quite frustrated by the impractical design of the facility.
i can imagine the frustration of people who have to train there for years.
the pool complex feels like a joke by galfetti.
for some reason one needs to walk 10+ mins to get anything done.
from parking to entrance, form pool to toilet, from pool to entrance…
in such a small area you need to walk left and up and down to get anything done.
everything is apart, everything is in a maze by completely useless walls.
galfetti obviously never did one swim session in his life.
if you have to swim before work or during lunch break you really do not have time to walk 15mins from parking to the pool and 15mins back again.
so you need 90mins to do a 60min session.
if there is a decline in people who do quality swim training in bellinzona they can thank galfetti.
making a maze of walls which obliges you to walk 2x15mins every time you wish to swim is as useful a making a maze of walls in a hospital.
sport facilities need to be direct and easy.
sports are demanding and efficient.
facilities need to be the same.
i heard galfetti's argument was that he wanted to make people walk more, that this is healthy.
rubbish!
designer's arrogance turns into a superficial attempt in social engineering with an excuse of health (the mother of all social engineering arguments).
a designer, an architect, should serve the public practically, not the other way around.
if you are in bellinzona pool and you are training seriously (3+ km session) you have to pee in the water, otherwise it takes you 5mins to get to the bathroom and 5mins back. while you pee your squad finished the intervals.
bellinzona public pool by aurelio galfetti is the only pool in the world where i have to say it is acceptable to pee in the water.
a monument to uneducated design.