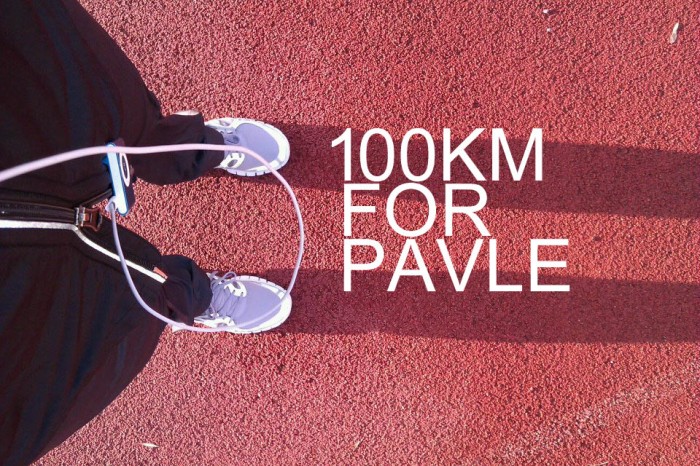 on 25th december 2011 i will run 100km on partizan track in belgrade.
fundraising
i will be dedicating this run to a fundraising for my 16 months old cousin pavle vlaskalin who suffers from epidermolysis bullosa.
if you are in serbia and you want to donate to pavle in serbian dinars please wire any amount you want to account: Banca Intesa 160-0200100077824-04.
if you are not in serbia, please email me for instructions (sorry for hassle about email.)
you can also donate to debra, world wide organization dedicated to epidermolysis bullosa.
thank you.
running
i wanted to do a 100km run this year. i wanted to see if i care about this distance enough to invest more time in training for it in 2012 and 2013. i started the year well with some consistent training over the winter, i did some nice races and even placed 4th at danish 50km champs with a nice average of 4:32/km. it was a good test of my form. after i did some nice workouts which showed even more improvement (i am always proud of 10 x 1000 @ 3:36 with 90sec rest i did a month or so after the danish race). but travel, work and lack of focus put me in a place where i could not run 10km under 40min a month ago and with extra 2kg in my ass. and even worst – i did not find proper chance to run a 100km and year has almost ended.
with only few days to go until the year ends, i have decided to do a really stupid thing – try to run a 100km alone on a local track this weekend. reason is simple: i do not enjoy sports without focus and i can not have focus unless i have something worth fighting for, something i can be relatively good at. if this stupid 100km attempt gives me that fire to focus on a sports goal in next few years, it will be worth it. without passion for a distance i feel empty and as if my time is wasted. this 100km run is my search for new passion, after triathlon.
am i ready to run it? no. i did a test this sunday – 20km alone on track at 5:20/km. for me it is not a problem to maintain this pace for 100km, but my tendons have weakened in last months and i already felt some tension towards the last 30mins. this tension will drastically increase after 50 or 60km of running. i have no problems with motivation or fitness, but i am weak and heavy and my back, knees and feet will take the battering. also my metabolism is untrained. but i know my weaknesses and that is half of a solution.
if you can come over to partizan track on sunday morning, or noon, or afternoon, or evening to support me it would be awesome. i will be doing my 210 laps from 8am until around 6pm. bring some coke, water, candy, bananas, salt, good music and jokes. run with me for few laps and i will be happy. you can also send me an sms at +381 63 268906 or post on my facebook wall.
thank you again.