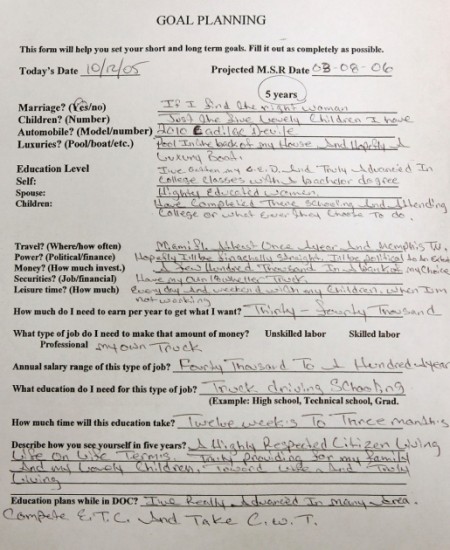 found this image online.
it is a form given to prisoners to fill out.
focus is on their goals after their prison term.
gives them some focus or hope i guess.
romantic.
this prisoner hopes to be a "highly respected citizen" who makes 30-40.000 us$ a year with trucking.
he needs to get several specific licences and specific trucking education.
he mentions truckers can make up to 100.000 us$ a year.
he wants to buy a boat.
interesting how very specifically designed education and career can give shape to someone's life.
i guess it is easier if everything is narrowed down.
a lot of choices but really not many choices.
i can not really tell if this is a choice or lack of choice.
i am confused.
it takes the fun out of life.
will they let him out if he chooses not to have a goal?
what is freedom?
how would sartre fill this form?
to be honest i am not sure if this prisoner was taking the piss out of them.
i guess you have to write something.
i might write the same thing to get out.
yeah i want to be a highly respected trucker citizen with a boat.