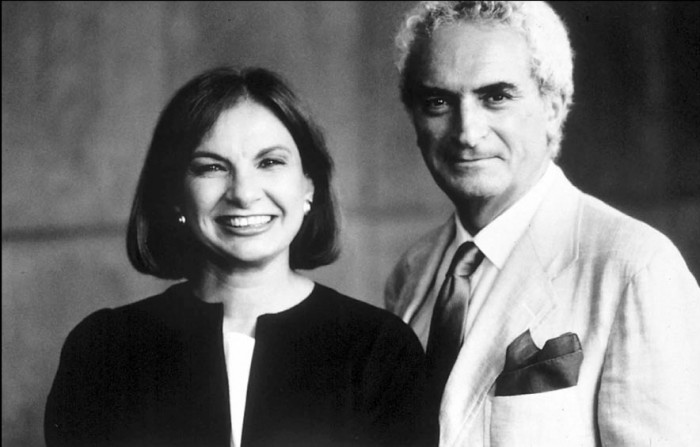 massimo vignelli has passed at age 83.
i had the honor to work with massimo on benetton digital branding project 13 years ago.
massimo was in his early 70s and i was in my early 20s.
we worked together for better part of 6 months.
idea for our unconventional collaboration came from then benetton group cio terry glenn phipps.
benetton digital branding, including design of benetton.com shop,
was maybe one of the most complex projects at that time in italy.
budget was multiple tens of millions of euros.
our goal was to design and standardize entire benetton digital presence.
note that this is before facebook and before google dominance.
project required solutions for complex functionality, integration with third party systems,
and 100s of templates with changeable content.
i am not aware if massimo's had past experience with digital systems of that or any size and complexity.
however his approach was relaxed, positive, always adding momentum,
never showing even the slightest hint that there is a problem.
i am sure there were big challenges, but i never felt this from him.
although i was in early 20s and he was in early 70s he accepted me as his partner in this project
and treated me as equal.
and in spite of all the tasks we had to deal with, he was dedicated to teaching me through practice,
and learning from me about the culture from which i emerged – digital.
my job now is essentially still design.
i am still learning from experiences with massimo, because i was too young to understand all the lessons.
i believe i will always be learning from him.
thank you massimo.
about massimo
massimo vignelli is seen as designer, but i see him as more:
a positive force in solving problems and making everything better.
he understood what must be done for life to be better and he dedicated himself to that.
i met many people who misunderstood his work.
it is hard to explain my sense of his work to them.
his contribution is much more than visual and product designs.
massimo was a person who was fully dedicated to belief that we have the power
to constantly improve everything.
i am sure he was dedicated to this idea until his last breath.
PS
it is not possible for me to summarize all the lessons in one blog post.
i wish i could, but it would take too much time.
as i write i remember and realize more and more.
i have a need to tell others what i learned.
i hope this blog post further inspires someone.