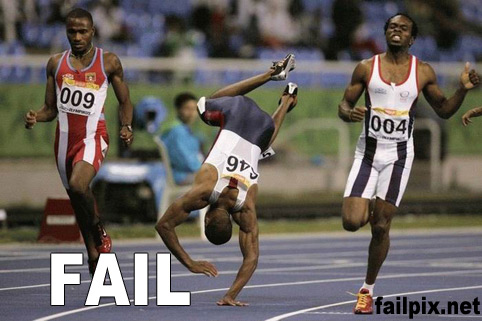 i am a big wannabe.
when i was a kid i almost jumped from top of the stairs trying to fly like superman.
i get carried away very easily.
recently i have been pretending i am my coach, ole, and that i can give people tips on running drills.
it is not only that i wish to be like ole, but i also see people doing stuff i know is wrong.
when i see something wrong i have to try and explain how it can be done better.
people see stuff on tv and try to copy yet it looks like nothing.
so this morning, after a 5km hard run, i wanted to show a running to drill to one of the guys i ran with.
every time i meet these guys i keep telling them stuff like i know everything and they are babies.
they put up with it. :)
so they wanted to see me do the drills.
i started, lost ballance and fall on my face like a complete idiot.
i got up and continued showing, while they asked me: "are you ok?"
between running with my pants on backwards the other day,
and falling on my face doing a simple drill today,
i think i will conclude this coaching thing is not so easy.
next time i do drills i will wear a helmet.