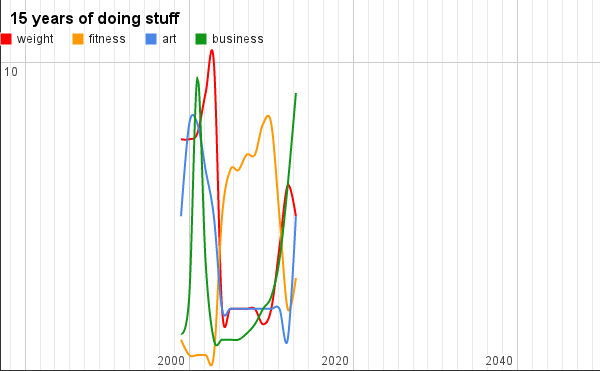 there are four main indicators relevant to me:
my body weight – it affects my life a lot. there is nothing worst than being fat. it is something i fight against for past 15 years. at one point i ended up with 40% body fat. this year again i was half way there. luckily i returned to a decent weight, but i need to get more thinner and leaner. sub 70kg is good for me.
my fitness – i went from unable to run 100m to setting my country sports record. now i am not as fit, but i am always close to being able to do a decent 10km. in 2013 i hope to just keep in touch with sports. i have no motivation for 5h solo bike rides and 2h runs in the rain, but i do enjoy to look good naked, and that is what sports is about.
my art activities – i lost my art records, but i had some nice shows and events in early 2000s. i hope to reboot my art career in 2013. i will see how that works out.
business – i love my work and i have always been active although business graph goes down for a while. what changed is size of projects. i like big projects, but i also like small projects. i have always been very lucky to work on projects i believe in and with people i enjoy working with. i have to motivate myself to care about money, but it is easy for me to care about what i am making and with whom.
above chart shows changes in these four indicators over past 15 years. the graph also shows my expectations for 2013. graph is from 1977, which is the year of my birth, until 2050, in 2050 i will be 73.
as andrea toniolo told me the other day: planning is the death of dreams. very boring when everything is quantified and simplified like this, but also very motivating. without planning i can not make bigger things. i feel i am at a stage where i need to plan a year or more ahead, to make the projects i care to make. the kind of things that make a difference.